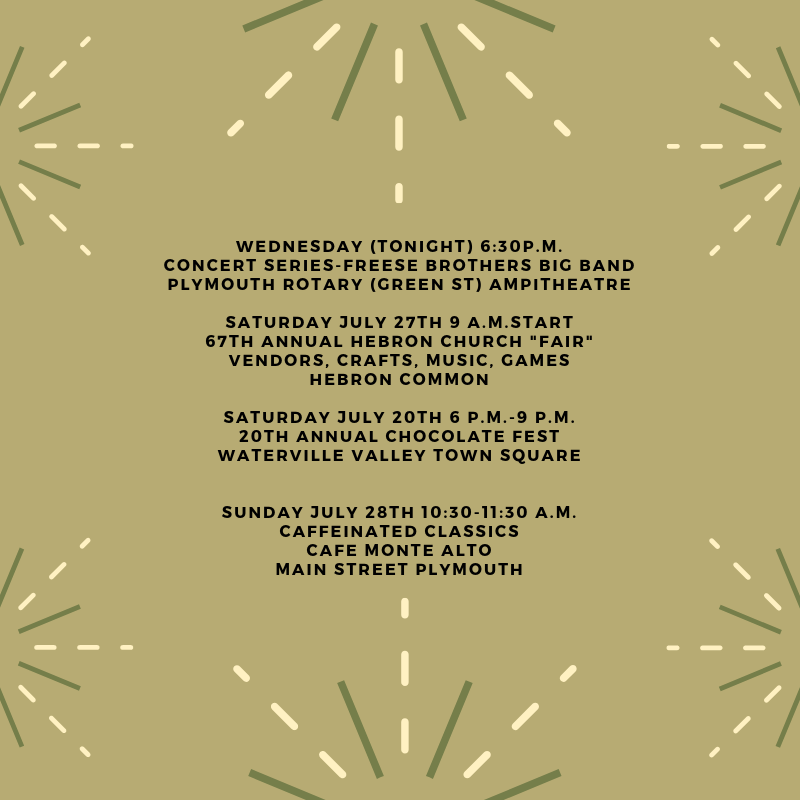 Here it is again, Wednesday, Hump Day, Mid week, whatever you want to call it we've once again arrived at the day of the week where we highlight a few great happenings for the end of the week and weekend in the lakes and mountains region of our amazing home! This week we have some standards and then a few new items to pique your interest.
This evenings concert on the common will actually be at the Plymouth Rotary (Green St) Ampitheatre, the Rotary will be providing refreshments and tonight is the Drawing for the Rotary's Christmas in July Raffle, so come on down, enjoy some music, snacks, and buy your tickets before it's too late. You don't need to be present to win, but you DO need to buy a ticket to have a chance!!
Start your weekend out with a leisurely stroll around the Hebron town common, check out vendors, crafts, games, live music and much more. The 67th Annual Hebron Church Fair kicks off at 9 am and goes throughout the day, bring the family, check out the local wares and enjoy some lively music. What better way to kick off the weekend?
Let's talk about chocolate for a minute.....mmmmmm...oh oops I said talk not daydream about, well for those of you who are also now thinking of delicious chocolate confections we have just the thing for you, Saturday Waterville Valley Resort will host its 20th Annual Chocolate Fest with live music in the Town Square. Grab a blanket, bring a picnic or just a bottle of your favorite wine and head on down for an indulgent evening. With live music, a 'Name that candy bar' contest, craft beer sampling and chocolate sold by the peice (note that these are cash only sales so make sure you have some cash if you want to purchase some delicious confections) this is sure to be a fun and filling evening.
After indulging your senses on Saturday take a moment to grab a coffee and a breakfast sandwhich, muffin or other treat and check out Cafe Monte Alto's Caffeinated Classics series, with live music outside, stroll along main street, sip your java and jam to the cool jazz stylings of local artists.
No matter what you choose to do this weekend, we hope you get out and enjoy all our region has to offer. Keep your eyes on our blog and social media for more upcoming event highlights!