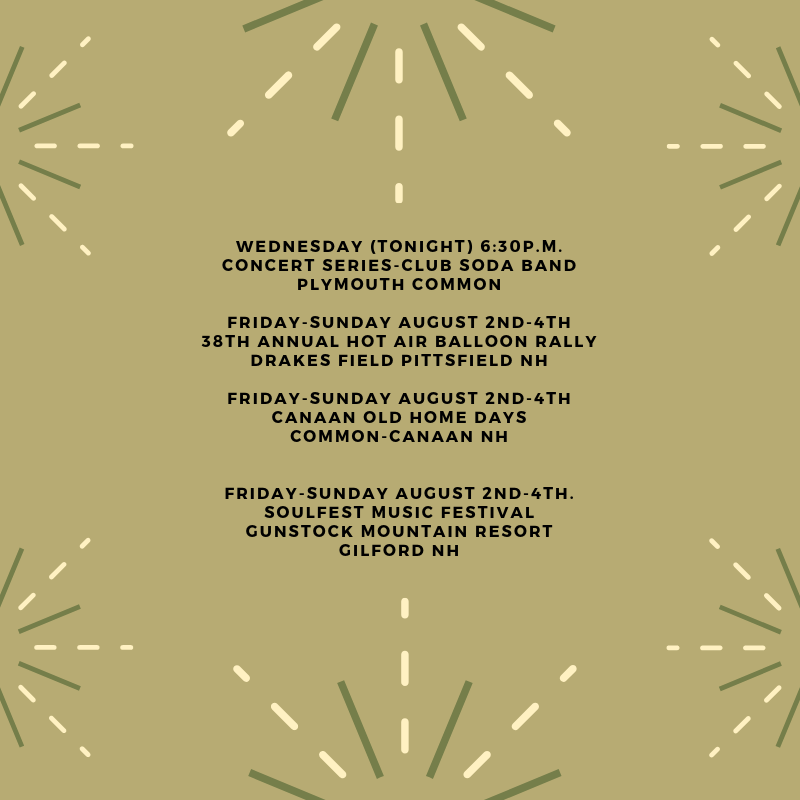 Here we go again, its the middle of the week, and you're thinking what should we do this weekend? Well as usual we have you covered. There is always something happening in and around our great state. Check out this weeks list of things that are happening and plan your weekend adventure today!
The summer concert series on the Common continues tonight with the Club Soda Band on the Plymouth Common at 6:30 pm. Bring a chair, bring a picnic and a friend and relax while listening to great music in the beautiful summer air.
Music, makes the people, wanna dance. And this weekend, the music makes everyone want to dance, from big name headliners at the Bank of NH Pavillion, to some great local and indie acts at places like the Flying Monkey and Backcountry Bar and Grill, to Soulfest at Gunstock, all the signs point to a weekend full of music in our region (and beyond)! Check out all the great acts coming to NH this weekend, throw on your dancing shoes and cut a rug (or a grass patch depending on where you end up!)
August 1st-3rd Soulfest 2019 at Gunstock Mountain Resort Featuring various Christian musical acts. Great music, amazing people and a beautiful venue, whether you go for a day or camp out for the whole weekend, Soulfest is sure to have something for the whole family.
Friday August 2nd
7:00 pm - Sky King at the Backcountry Bar & Grill TENNEY Mountain in Plymouth
7:30 pm - Hootie and the Blowfish at the Bank of NH Pavilion in Gilford
Saturday August 3rd
7:00 pm The Sweetbloods are at the Backcountry Bar and Grill on Tenney Mountain in Plymouth
7:30 pm - Arlo Guthrie will be playing an intimate show at the Flying Monkey in Plymouth.
9:00 pm - Riley Parkhurst Project performs at the Woodstock Inn & Brewery in Woodstock
If music isn't your thing we've got the Canaan Old Home Days running Friday through Sunday, with vendors, artists, games, entertainment, food and fun for the whole family.
Up for a bit of a travel? Check out the 38th Annual Hot Air Balloon Rally at Drake's field in Pittsfield for a bit of a change of scenery. The colors are simply breathtaking.
Have an event you'd like us to highlight on What's Happening Wednesday? Drop us a comment or a message on our Facebook page or shoot us an email, we'd love to hear from you!
Happy Humpday!!