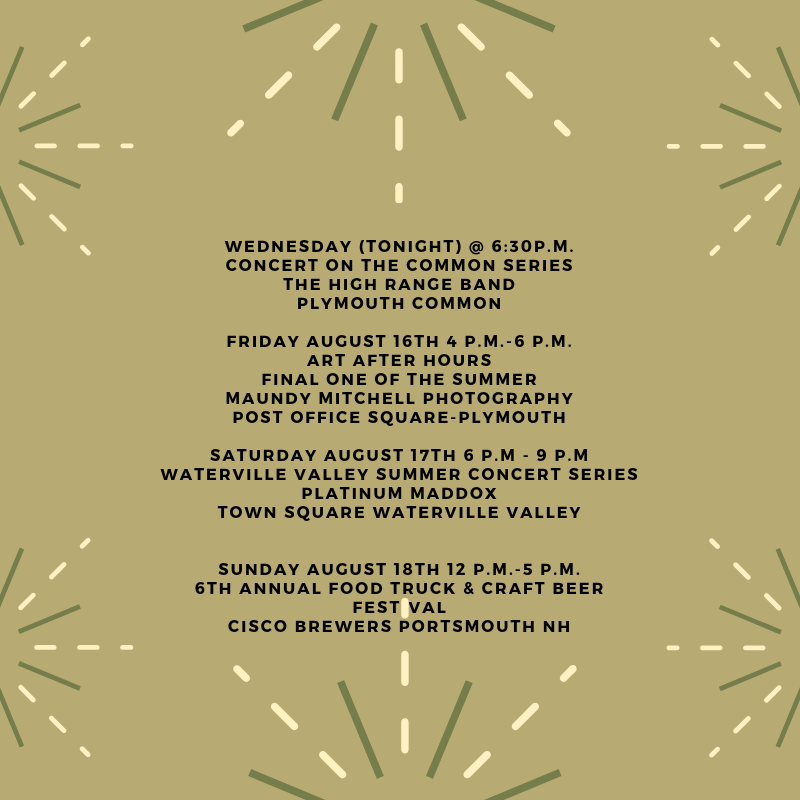 Somehow Wednesday has crept up on us again, another summer week half over! We all know that this means another rousing edition of What's Happening Wednesday from us here at Sara Holland and Co. This weekend we've got some great offerings for you, starting tonight with another evening in the Concert on the Common series in Plymouth with The High Range Band, a fun and talented acoustic roots band, there will be refreshments provided by Cub Scout Pack 56. So grab a chair and a friend and come on down for an evening of music and fun!
Can't make it tonight? Well don't you worry there is more music in the area this weekend with the Waterville Valley Summer concert series both Friday and Saturday nights at 6 PM in the Waterville Town Square, Friday will feature artist Corey Brackett and Saturday Platinum Maddox takes the stage. Bring a chair, bring a bottle of wine and enjoy some great music with wonderful views and awesome folks!
Friday brings us Art after Hours at Maundy Mitchell Photography in Plymouth from 4-6. This weeks event is extra special since it is the final Art after Hours event of the summer and will feature music from talented local musicians, artwork from local artists and a make your own Mandala offering will round out this wonderful event. So come out, sip wine, nibble chocolate and talk art!! This event isn't to be missed!!
Our other highlight is a bit of a travel outside the area, but if you're anything like us a little drive is worth it for great food and beer and the 6th Annual NH Food Truck and Craft Beer festival promises just that. Lots of great food trucks and locally brewed beer samplings await you if you don't mind taking a little drive to Cisco Brewers in Portsmouth NH on Sunday from 12-5 PM.
Whichever of these things you choose to check out, or even if you just want to have a beer on the back porch swing, or take a hike on one of the many local trails (hint hint a highlight on some of those great hikes may be making an appearance here soon so keep your eyes peeled), we hope you enjoy all our wonderful Lakes and Mountains region has to offer! Remember to like and follow us on Facebook and check back often for new and exciting information on our Blog as well as social media!