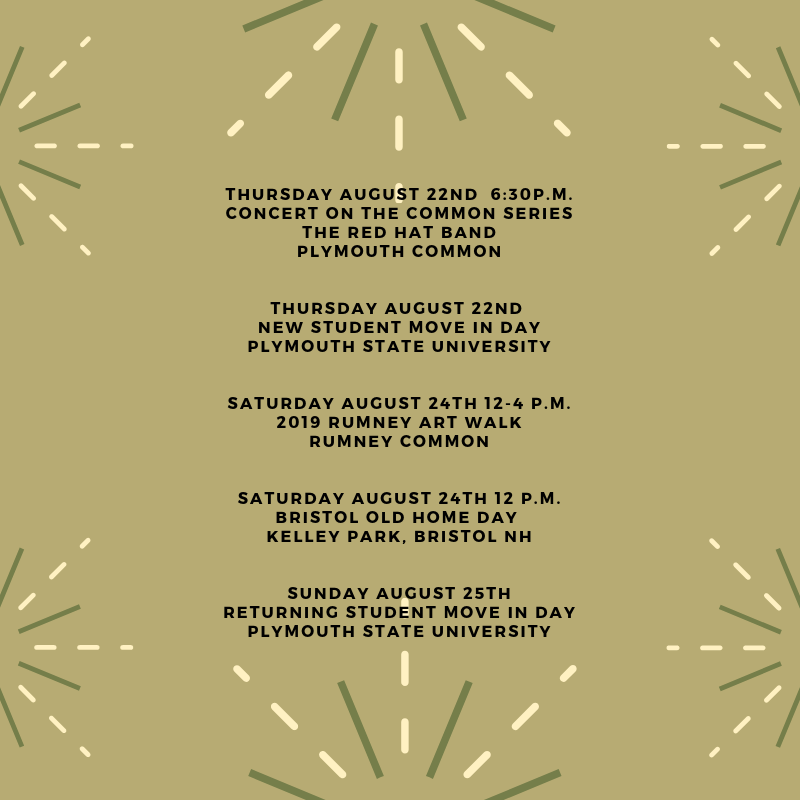 It's that time again. The rain is falling, the air is cool, and so is the list of events and activities we have for you to check out this coming weekend! Summer is winding down and these will be the last few great weeks to spend time in the great outdoors!
Due to weather, tonights scheduled concert on the common in Plymouth has been postponed to tomorrow (Thursday) at 6:30 pm, so stay in today and keep dry, tomorrow, grab a chair and come on down for some great music from the Red Hat Band!
Sometimes, the things we let you know are happening may not be events, this week is MOVE IN DAY at the college, Thursday the 22nd is New Student move in day, and rounding out the weekend on Sunday the 25th is returning student move in day, so be prepared for delays and traffic if you plan on travelling in or around Plymouth this weekend.
Head over to Kelley Park in Bristol Saturday at noon for Bristol's Bicentennial Old Home Day, August 24 which will be bigger than ever! Along with the usual events there will be a field full of artisans and old time displays.General and Mrs. Grant will appear on horseback. There will be musical entertainment through the day and games for the children. Mark the date and come out and celebrate Bristol!
Great music is a constant in the beautiful Pemi Baker Valley and this weekend holds no exception. The summer concert series in Waterville Valley continues Saturday night with The Tom Paquette Duo performing in Town Square from 6-9, grab your folding chairs, or a big blanket and a bottle of wine and head on down to enjoy some music surrounded by the beauty of nature.
Alternately for those who may not want to travel to Waterville Valley we have the musical stylings of Holly Furlone at the Back Country Bar and Grill Saturday at 7 pm. Come check it out, good food, good atmosphere and great music from a local musician.
No matter what you choose to do, or where you choose to spend your time this weekend, we hope you enjoy everything our beautiful state has to offer! Stay tuned in the next week or two for a special What's Happening Wednesday when we highlight WHAT has been happening with Sara Holland and Company, exciting things are happening and we can't wait to tell you all about it!