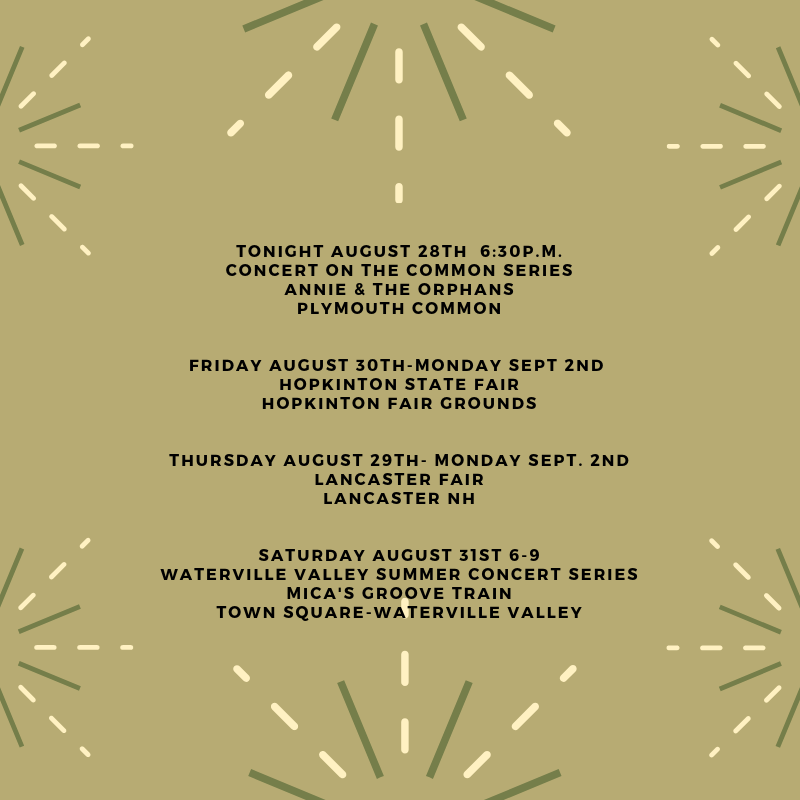 Mike, Mike, Mike......do you know what day it is??? We do! It's Wednesday again and that means another list of great, fun things to do in the Pemi Baker Valley and Beyond. This weekend's list isn't huge, and that's cause we know how much you all love to spend time with friends and family for the holiday weekends (this time Labor Day weekend has crept up on us when we weren't even looking!) This weekend holds a couple fairs, both Hopkinton and Lancaster Fairs are this weekend! Fair season always signals the kick off to fall for us here and this is no exception. The weather looks like its going to be lovely, so grab the kiddos and head out to one of these great fairs. Take in the sights, sounds and smells that remind us that summer is coming to a beautiful and amazing close.
Not really a fair fan, well then avoid all the fanfare (see what we did there? :) ) and come on down to the Plymouth town common for the end of the Concerts on the Common series with a crowd favorite, Annie and the Orphans ((keep your eyes peeled on this one though as the rain may force it to be cancelled/rescheduled)), or if a weeknight isn't good for you Saturday the Waterville Valley Summer Concert series continues from 6-9 with Mica's Groove Train.
No matter what you choose to do, we hope you enjoy this lovely three day weekend with your family and friends. BBQ, Fair, Fireworks, Music....whatever you do, Make it great!!!