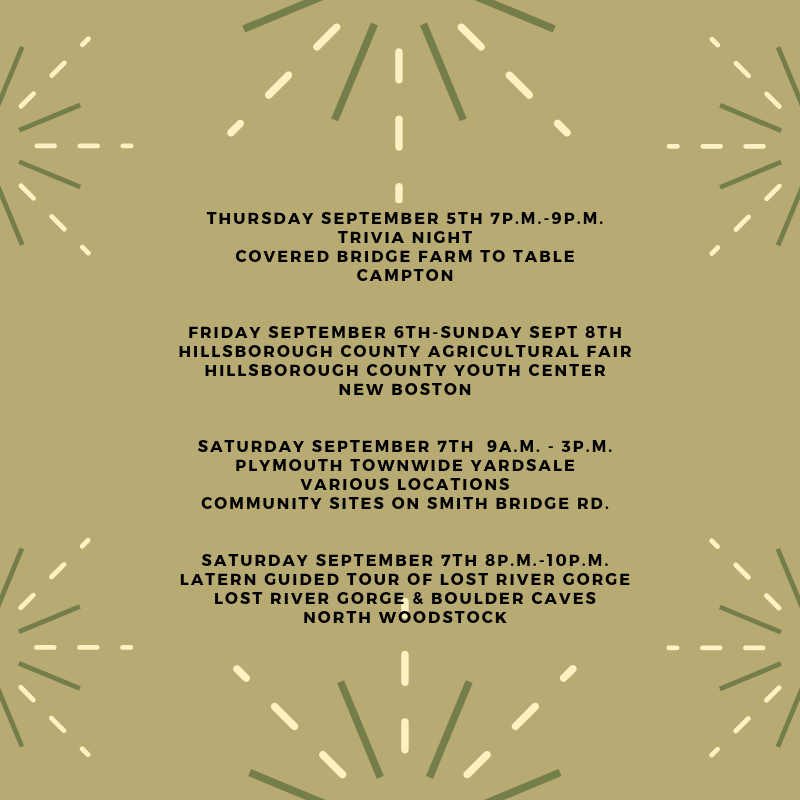 Did anyone else notice that like the flip of a switch, on September 1st everything took on the colors and even the feelings of fall? While we know its not quite "officially" fall, back to school and Labor Day weekend always signal our brains to start turning in that autumnal process of preparing for winter. Everything about late summer/ early fall here in the lakes and mountains region is beautiful and glorious, cool nights and mornings, the lingering warm daytimes, leading us into early fall and indian summer. The kids are back to school, the farmers markets are starting to wrap up their seasons and goblins and ghoulies are just around the corner. This is the season where there is lots to do and little time to do it before the dreaded you know what flies!
Tomorrow night you can test your knowledge and put that brain to work at The Covered Bridge Farm to Table's trivia night. Grab a few friends, make a team, get some cold brews and show everyone you are smarter than the average bear!
Friday through Sunday is the Hillsborough County Agricultural fair, with lots of animals and great fun for family of all ages, this fair hearkens back to the early days of county fairs and will give you a fun and nostalgic adventure with sights (and smells) sure to amaze.
This weekend is the first of several local townwide yardsales, Plymouth's annual Townwide Yardsale is Saturday September 7th from 9 am -3 pm. This is a multiple location event, with many private families hosting yard sales right at their own locations, as well there is a large community site where mutliple sellers will come together in one location to sell their gently used goods and wares. This years central location is the Huskies football field on Smith Bridge road, this is a popular event and the great items sell fast so be sure to get out there early and get those bargains while they last. This is a rain or shine event!!
After a day of searching for bargains, spend the evening searching for adventure with a lantern tour at Lost River gorge, the guided evening tour begins at dusk, takes about 1 ½ hours, and is followed by a special treat – s'mores around the campfire. All reservations must be made in advance by calling 603-745-8031; space is limited. Not recommended for children under 5 years old, so get a sitter and make this the perfect romantic late summer date night adventure!
Keep your eyes peeled for more great local information and event highlights!!!